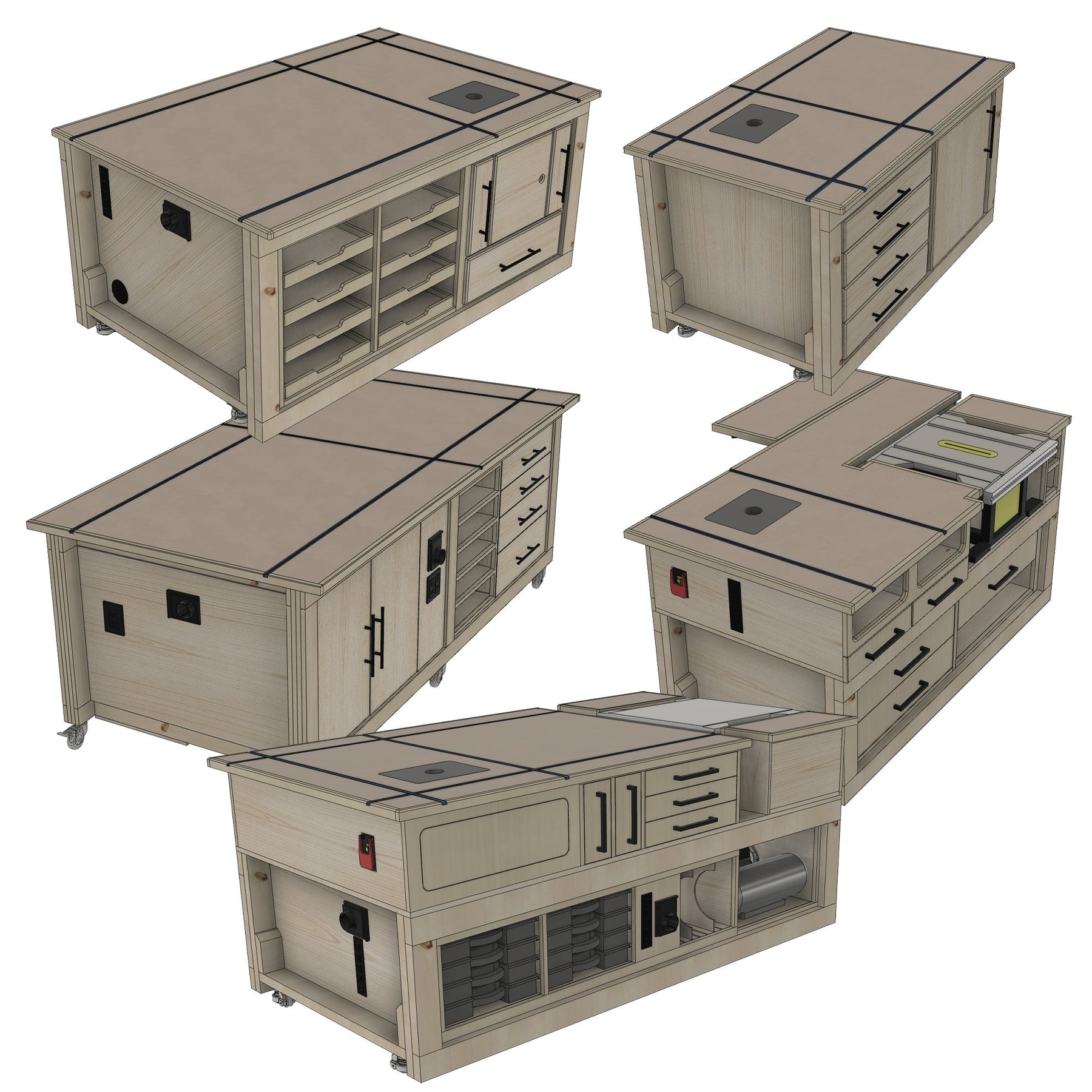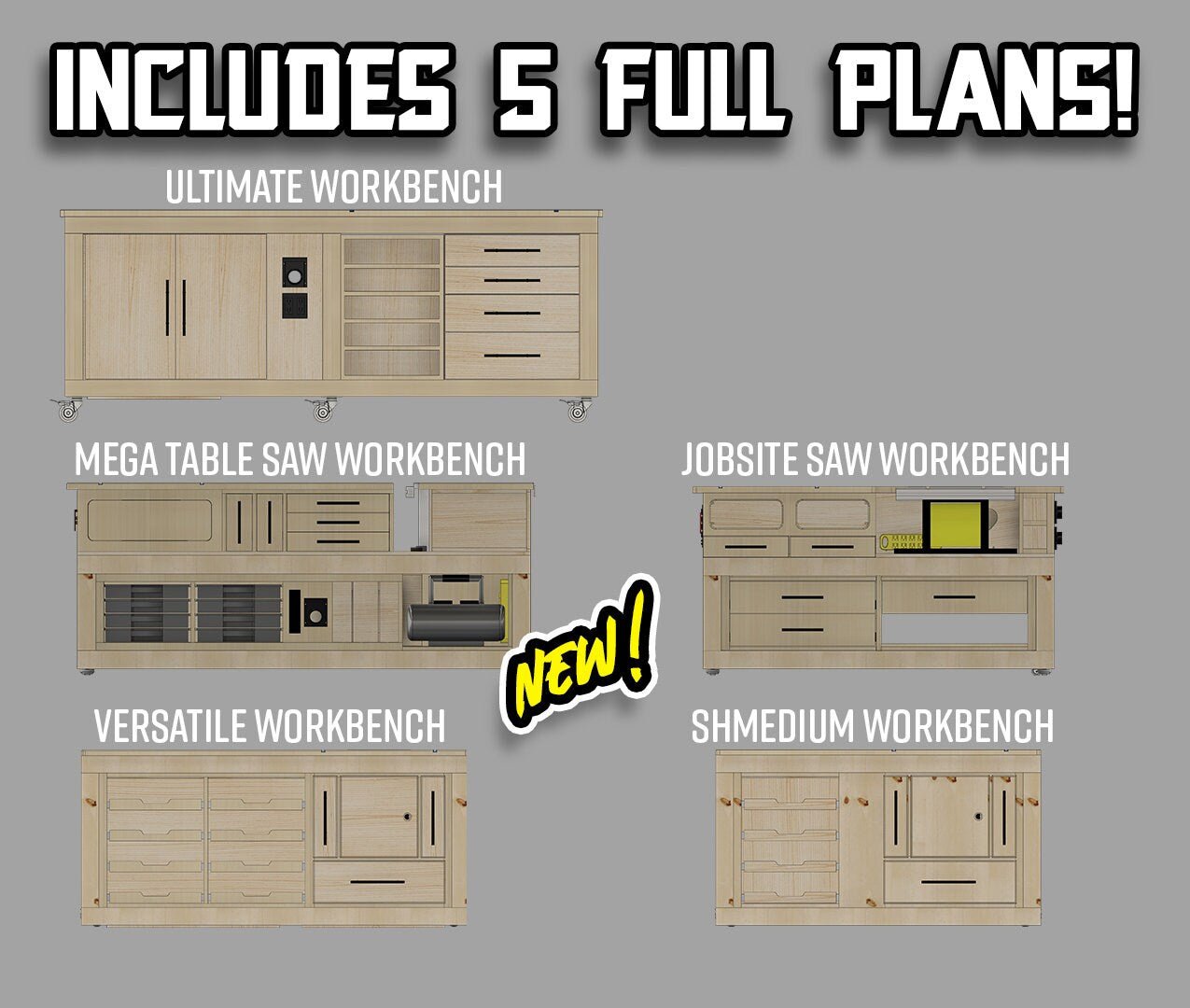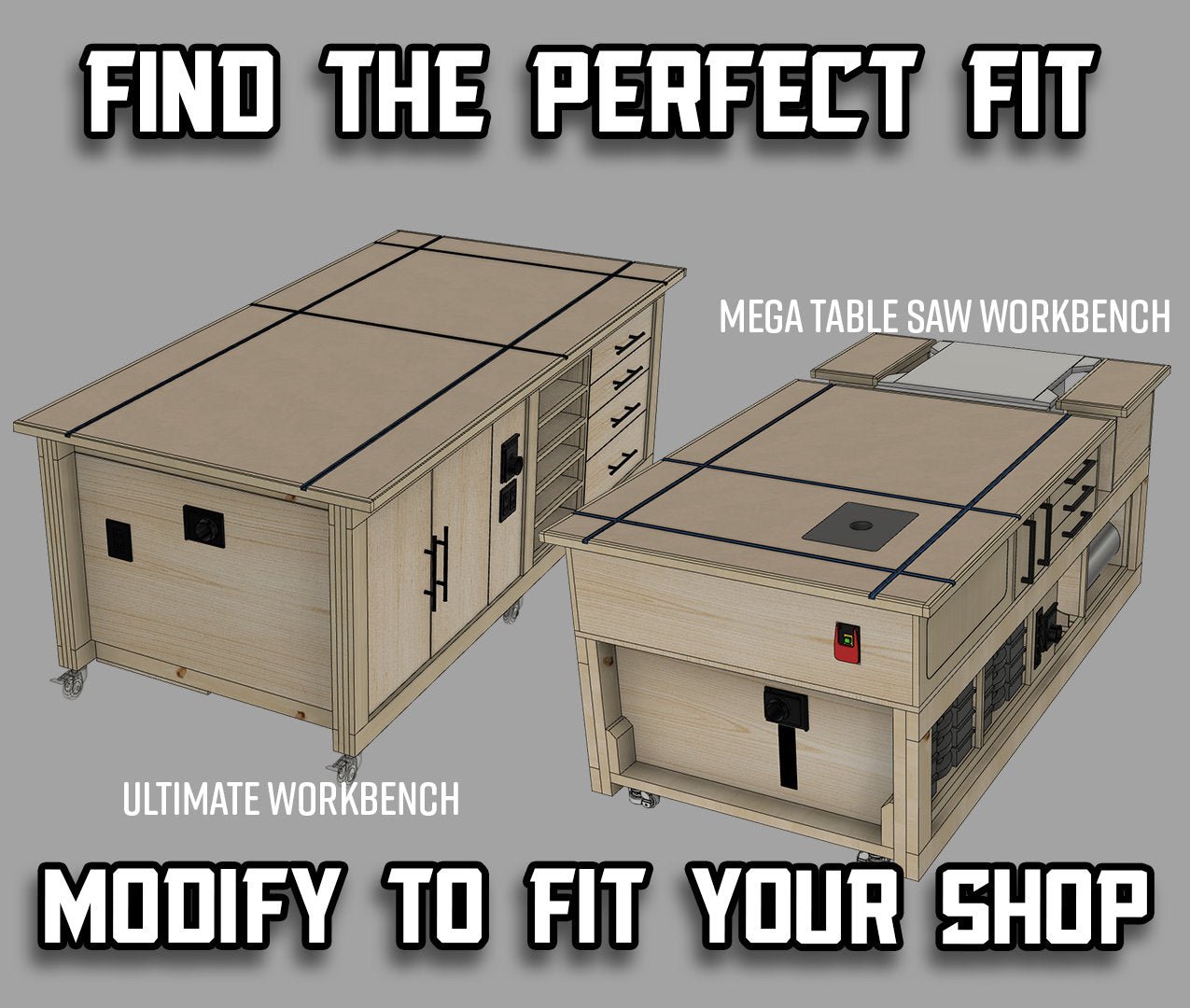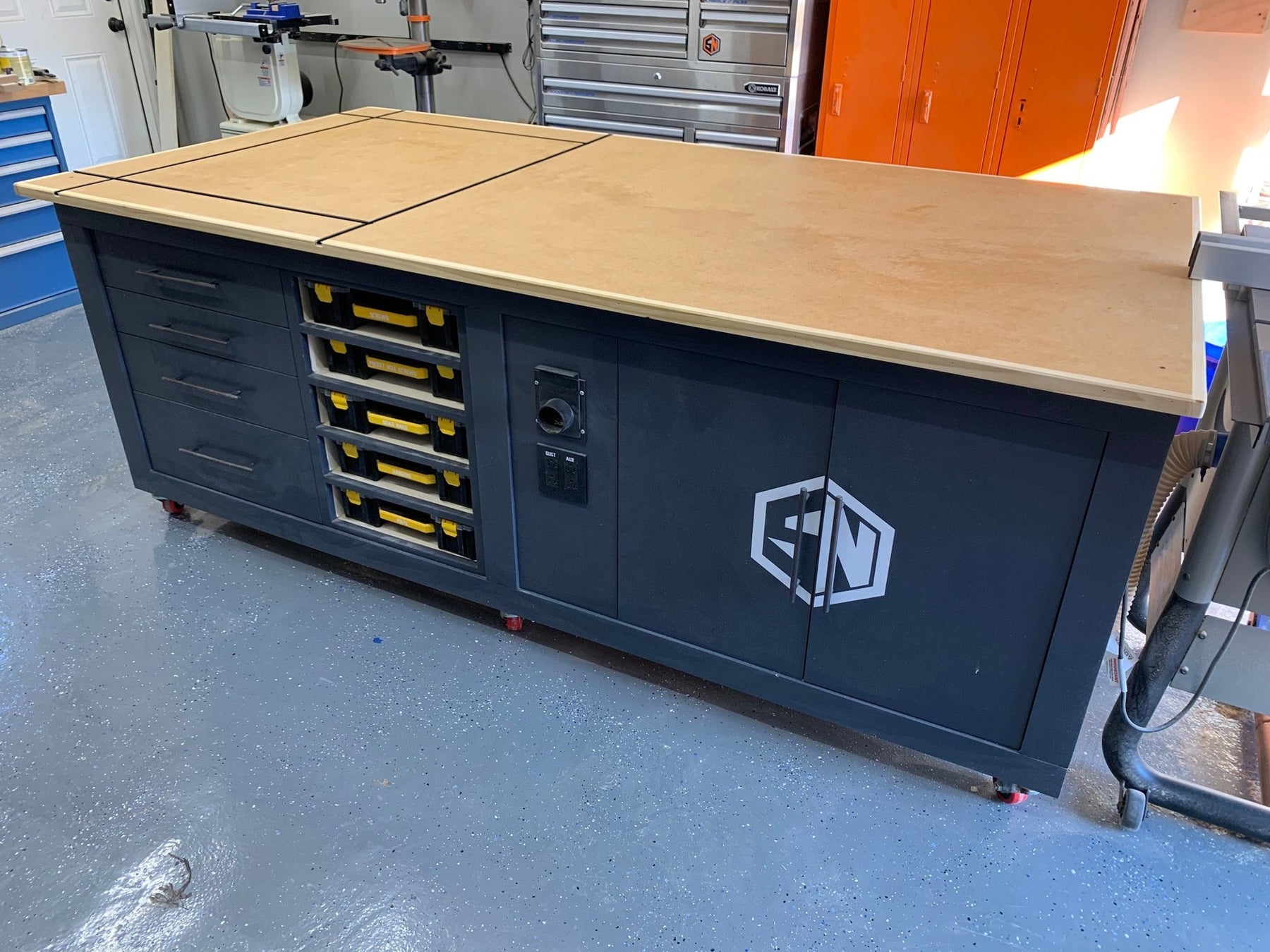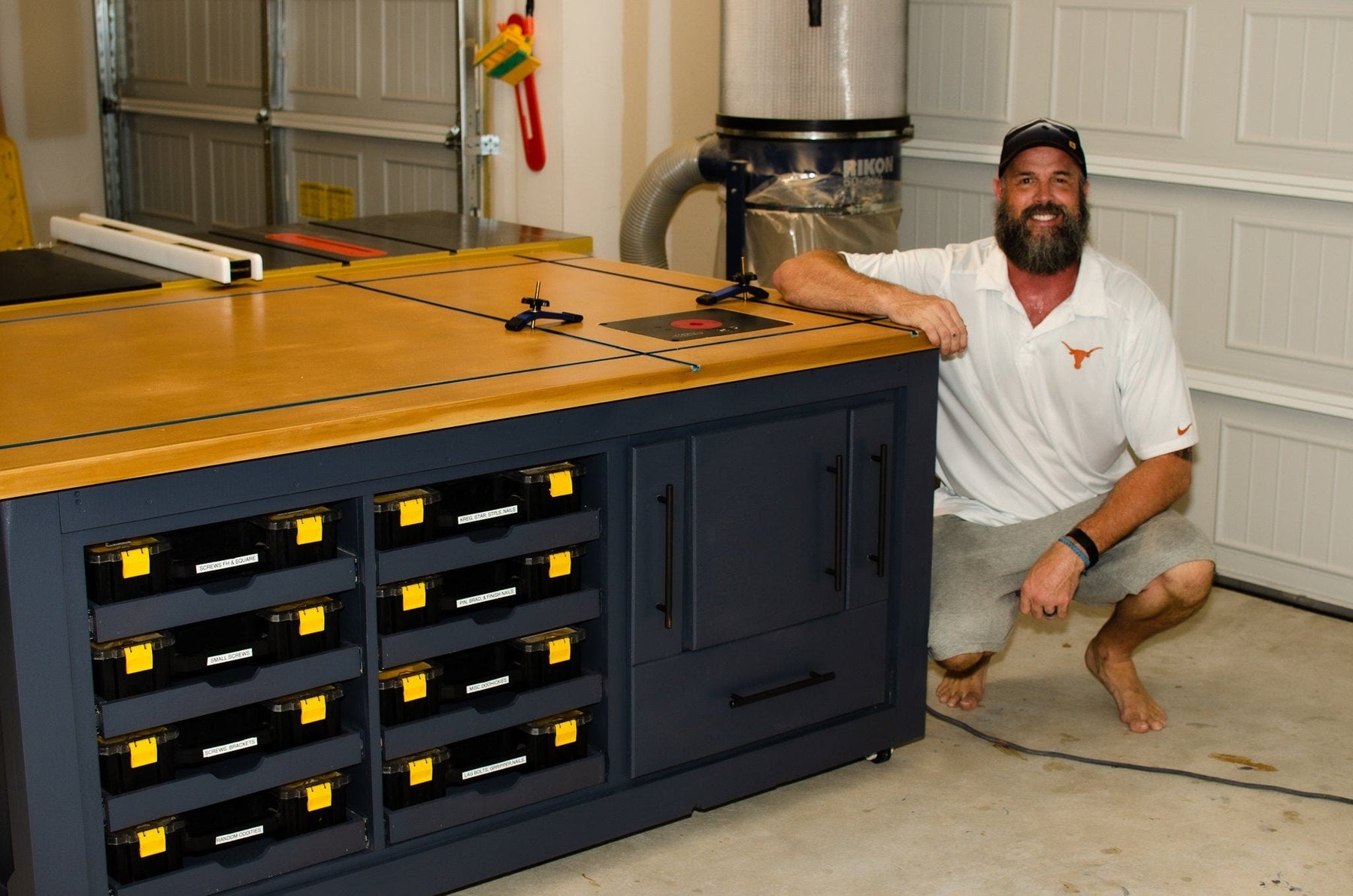 Workbench Plans (5 Pack!) - Digital Download
This listing is for a package of (5) individual build plans for different workbenches that I have designed. You can find individual listings of each workbench in my Etsy shop if you don't want all 5 but you end up saving OVER 40% by buying in this bundle. All units are imperial - sorry I don't have metric versions of these plans (except for the Versatile Workbench!). There are over 500 PAGES of combined plans included in this bundle!!!

The listing includes plans for:
(1) Ultimate Workbench - 4'x8' monster with full sized 2-stage dust collection mounted within it. There is a full build series for this workbench on my YouTube channel (Shop Nation)
(1) Mega Table Saw Workbench - 4'x7' feature-packed workbench designed to hold a contractor style table saw. This is a brand new design and will be features in a build series.
(1) Jobsite Table Saw - 3.5'x6' scaled down version of the "Mega" workbench design. It still features a built-in router lift and lots of storage though.
(1) Versatile Workbench - 4'x6' Outfeed table/Workbench designed to work in conjunction with most cabinet saws. There is a full build series on my YouTube Channel.
(1) Shmedium Workbench - 3'x5' Scaled down version of the "Versatile" workbench with most of the same features packed into a smaller frame.

Each workbench is unique in its size and features but keep in mind that I design these workbenches to be customized. Making changes is fairly easy which means you can really get the perfect workbench for your workshop.

Each Plan Includes:
- Full Cut Sheets & Cut List
- Full Materials List
- Broken down build sections into bite-sized chunks

Please check out my YouTube channel for other builds because I focus on making YOUR shop GREAT.

Note: Please refer to the individual listings here on Etsy for version numbers on these plans. You are entitled to any (newer) version if I make changes or corrections in the future. Don't hesitate to reach out with any questions!